What's New at Order Desk?
As 2020 starts a slow wind down, we know your business may be ramping up for the busiest time of the year – the holidays!
To prepare your Order Desk store for a smooth and lucrative holiday season, we'd like to share a few recommendations based on lessons we've learned from previous years.
Holiday Tip #1 – If you're thinking about adding a new fulfillment or Print on Demand service, make sure to get that process going now. Many of them have holiday cut off dates where they won't sign up new clients as the holidays approach. Check in with them, and don't miss those deadlines.
Holiday Tip #2 – On the same topic, if you're thinking about switching to a new integration, connect it now! Most integrations require manual testing and working through the set up to run the way you need them to. Start this testing process early by connecting any integrations you're adding to your repertoire.
Holiday Tip #3 – Your inventory is everything. If you're a Print on Demand store, this may sound familiar. If you are preparing for new designs, products or promotions for a holiday rush, be sure to do a full inventory and automation setup so your products are ready to be purchased before you even start selling them.
Don't forget that we get as busy as you do during the holidays, so help us help you by asking your questions early, especially if you're planning on making big changes to what you do or how you use Order Desk this holiday season.
A new action has been added to our

Rule Builder

: Export Order With Template. This lets you export a single order from your store with any of your Export Templates applied.

If you've set up a

code replace for your bundled items

, Order Desk will check for multiples of the same item and calculate your bundle quantities accordingly. It will also take minimum and maximum limits that were set into account.

If you'd like your store admins to receive notification emails whenever any data gets imported into your Order Desk store via an email import, let us know and we'll enable this on your store.

If you add

JoeyCo

as a carrier code for your shipments, Order Desk will automatically create a tracking link.

Use Order Desk's search feature to include ranges of orders with both numbers and letters. Before you could only search for a range of orders if they were fully numeric like "Orders 1001-2000", but with this update you could search for orders like "F101-F109" or other alphanumeric combinations.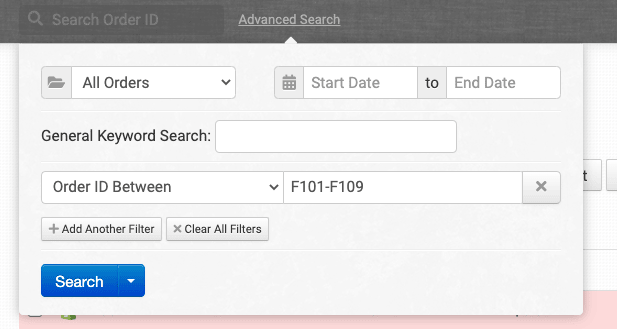 Shopping Carts:
WooCommerce – If Download Order Metadata as Checkout Data is enabled in your WooCommerce integration, metadata fields that start with an underscore, such as "_key", can be included. If you'd like this added to your store, respond to this email and we'll enable it for you.
Amazon Marketplace – Only want to bring in AFN orders and skip MFN? Let us know and we'll enable this on your store.
Ecwid – The Ecwid integration got an improvement that tells Order Desk when a pending order in Ecwid is updated to approved. At that point, Order Desk will import the order immediately rather than waiting for the next import appointment.
InkSoft – When InkSoft orders import into Order Desk, they'll include the InkSoft store name in the order metadata.
Print on Demand:
DecoPlate – We fixed a bug that was causing errors with the DecoPlate integration's Product Code Matching.
Casestry – We improved the connection with Casestry to make sure tracking information is moving smoothly from Casestry to Order Desk.
PrintDropper – Order Desk will run more shipment checks for those orders that take a little longer to ship.
OneFlow has been rebranded as HP Site Flow. If you're looking for any OneFlow information, you'll find it under

HP Site Flow

instead.
Fulfillment:
VeraCore – Send a

Reference Number with your orders

by adding it to your order metadata or checkout data.

Amazon FBA – We've improved Amazon FBA communication to be more responsive when downloading shipments that are delayed.
SanMar – Use

Group Batching

to choose one folder to be sent in full to SanMar once a day.

Logiwa – Add an

Invoice Number

as a detail for any of your orders.

3PL Central – Include

Lot Numbers or Serial Number

information for individual items.

ShipHero – We switched over to ShipHero's new API for better performance.
Shipping:
EasyPost – Form links generated by EasyPost can be saved as checkout data. Let us know if you'd like to enable this on your store so we can send you a Feature Tag.
Productivity:
Zapier –

Order shipment information

can be sent from Zapier into Order Desk.

Amazon Web Services – Added support for sending to SQS First In, First Out queues.
Print on Demand: Air Waves | Pronto POD
Productivity: Melissa
That wraps it up for September! If you have any questions about getting your stores ready for the upcoming holiday season, remember that now is the time to reach out to us! We want to make sure your store is ready to rock this year, and the best way to do that is to get as prepared as possible before the orders start pouring in.
We'll see you next month!