Hi Again! It's a new month but it's the same old me in your inbox with the most recent Order Desk news.
Even though it's been May for a week now, I'm contractually obligated to make at least one Justin Timberlake joke in this newsletter. Seriously, it's in my employment contract. Here goes: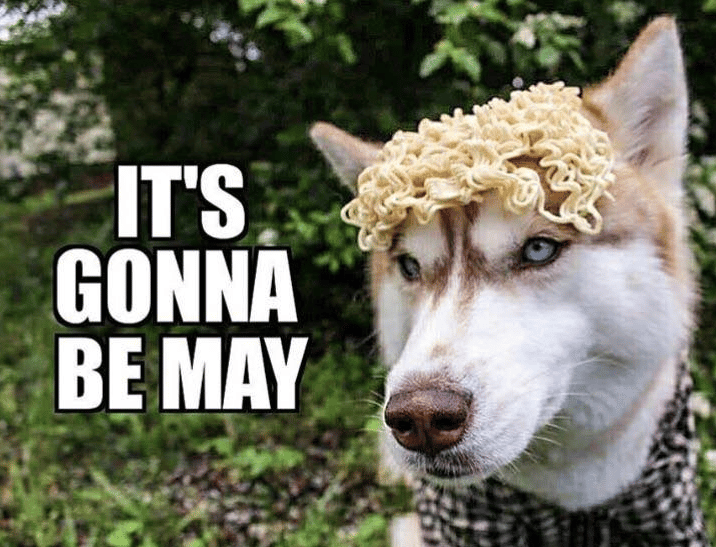 Make sure you stick around to the end of this email to catch this month's Spotlight On… where you will learn more about the Order Desk Knowledge Base!
Integration Features & Updates
Shopping Carts
The Wish integration has been updated, which comes with some additions and changes:
Default Shipping Country is now a required field in the Wish integration settings: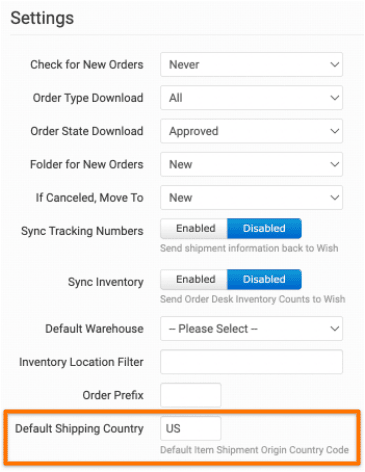 Order State Download can be used to select the order status of orders to be downloaded from Wish.
The Default Warehouse will be used when downloading products.
You can find more details in the Wish Integration Guide.
Print on Demand
Additional item level options that can be set as variations or item metadata for:
Prodigi: print_color should now be used to pass the print color to Prodigi if required for order items, updated from print_colour. Details Here.
Fulfillment
Additional order level options that can be set as checkout data or order metadata for:
Avectous: Use ThirdPartyAccount to add a different shipping account number to the order. Details Here.
New Integrations
Fulfillment: Helloprint
Spotlight on… Order Desk Help Guides
You may have noticed that when you email Support we often include a few links in our response. But we're not the type of organization that sends you unthoughtful saved replies with links to guides; instead, we've thoroughly covered as many features and scenarios as we can in over 600 guides and videos, and our support team utilizes these to help you learn Order Desk or bring you up to speed as they help you set up the custom workflows that your business needs.
If you're not sure how to get started with navigating the Knowledge Base or you need a refresher, keep reading. 🙂 Just think of me as your Helpful Knowledge Base Guide!
Most importantly, the Knowledge Base can be found right here. If you know exactly what guide you need, you can go ahead and type the name of it into the search bar: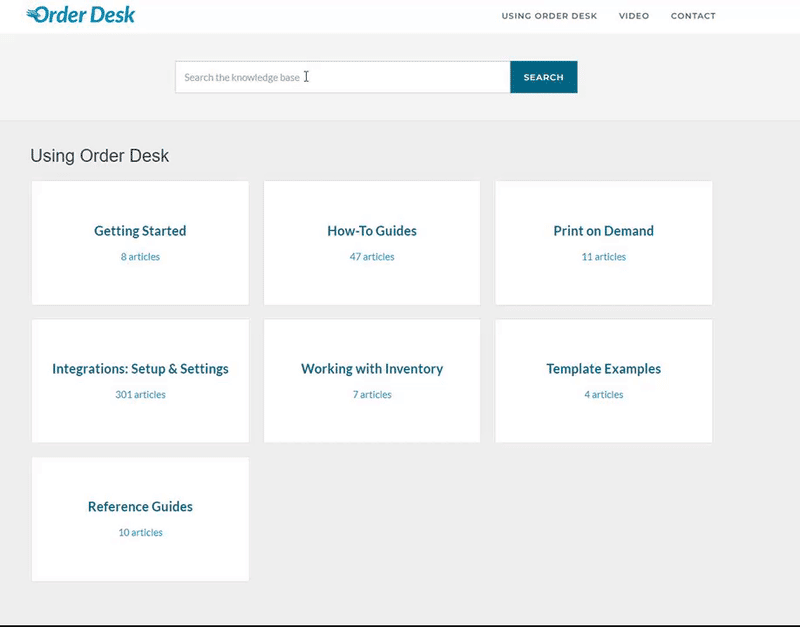 Anatomy of The Knowledge Base
Let's take a look around, shall we? In true nerd fashion, I've color coded each area on the page so I can go over them one by one: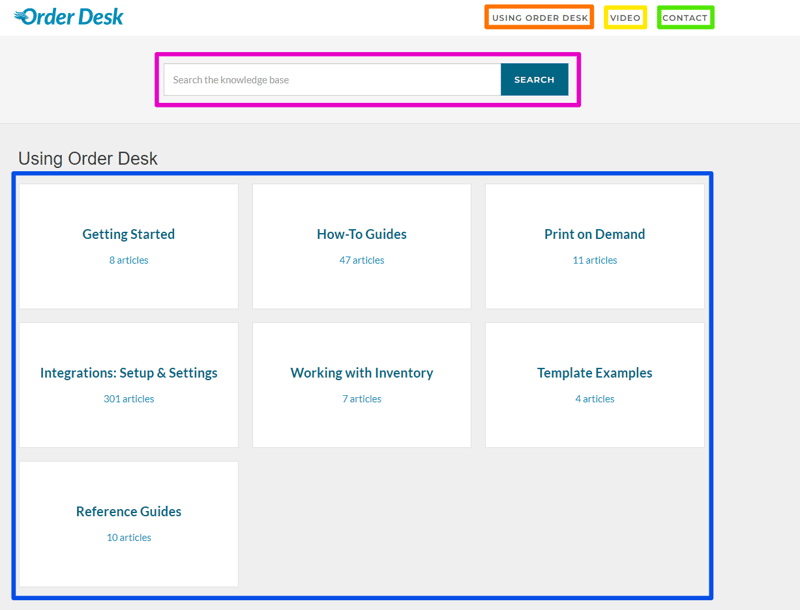 Using Order Desk
This is going to bring you right to our most popular articles! It's a great place to start if you aren't sure what you're looking for.
Video
Clicking here is going to direct you to our help videos. You'll be able to watch our Order Desk Demo Series and complete video walkthrough on how to Automate Your Print on Demand Workflow.
Contact
Contact is going to trigger a pretty neat pop-up that will allow you to send us an email! This can be especially helpful if you see something in one of the guides and need clarification. No need to open a separate tab in your browser to email us!
As an additional option, the ? on the bottom right-hand side of the page will also open this form.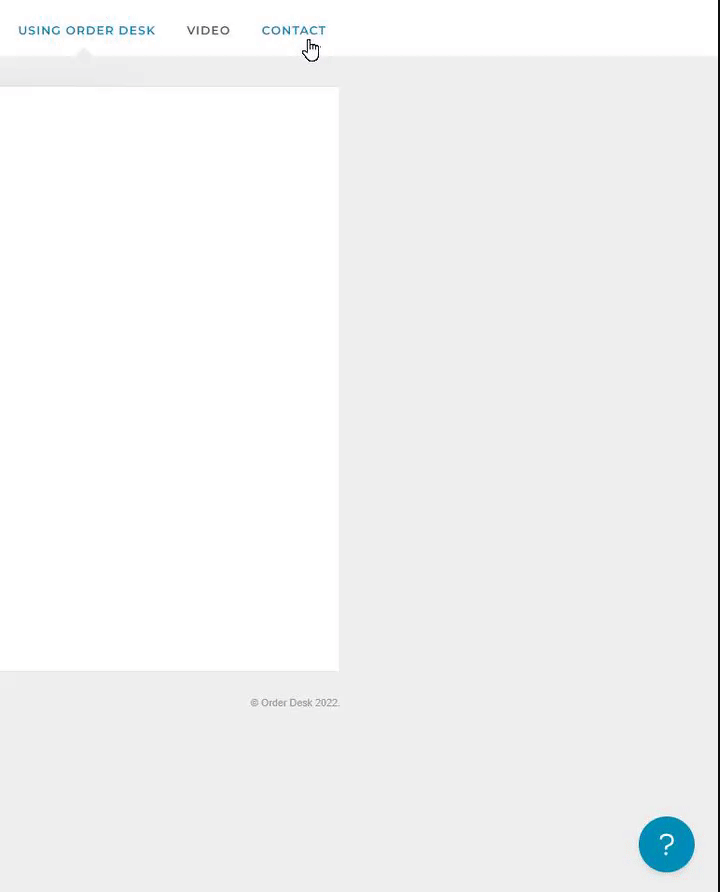 Search Bar
I know I mentioned this one earlier, but I can't help but mention it again! Type in search terms here to look for a guide.
Articles
We've gone ahead and organized all of our guides into different categories here. So if you're a little lost about finding a topic, you can click any of the boxes to be brought to a collection of guides that fall under the same umbrella…ella, ella.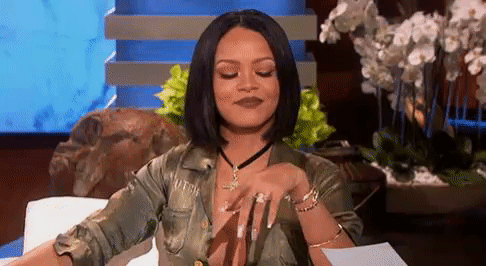 Navigating the Guides
You can always skim the guides at your own pace, but if you want to jump to a certain section, we have handy links in the In This Guide section that you can use to go to selected topics instantly!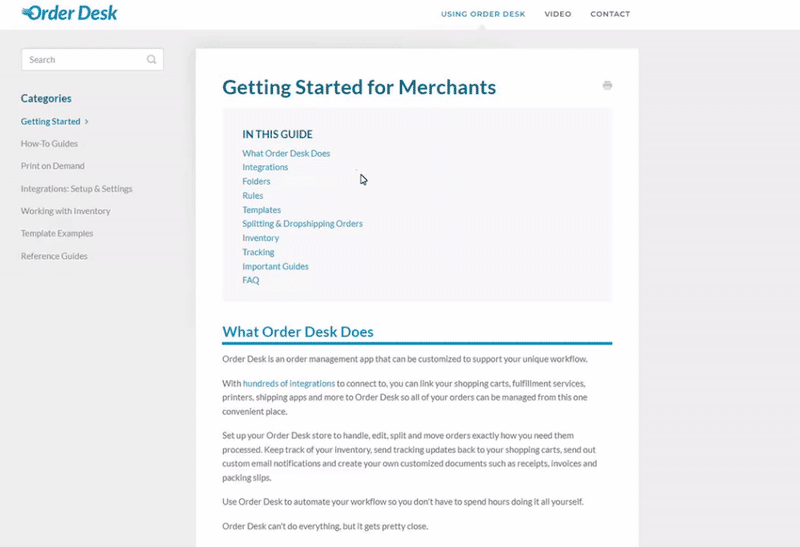 While I can certainly go on and on about Order Desk updates and the Knowledge Base (which I use myself pretty much every day), all good emails must eventually come to an end!
Before I go off to start writing jokes for the June newsletter, I want to share a fun opportunity for our customers that has come our way. Capterra, the independent software review site, is offering $5 USD to up to 30 Order Desk customers for an honest review of the app. If this strikes your fancy, you can access the survey right here.
If you're feeling shy but still want to let us know how you feel about Order Desk, you can always reach out to support@orderdesk.com. 😊
See you next month,
Patricia and The Order Desk Team