This is the first year in history that's actually been 40 months long, but it's finally the holiday season! If you're reading this, you probably found a couple spare minutes between marketing your holiday specials, fulfilling a huge influx of orders and wishing you picked a profession that didn't have a Q4 rush. We're thankful that we can borrow a few valuable minutes from your day and that you stuck with us through such a wild year!
Important Info Regarding Missing Shopify Orders
Before we roll into our regularly scheduled updates, let's look at a change to our most popular integration, Shopify, and how it might impact you.
From mid-October through mid-November, we got a lot of reports about missing orders from Shopify. We discovered that these orders were getting lost behind a slight time discrepancy caused by a lag on Shopify's internal reporting tools. After trial and error, several temporary workarounds and conversations with Shopify, our developers decided to re-haul the way we import from Shopify to completely bypass the lag from their system so we don't have to wait on a fix from them.
While this issue didn't hit all Shopify stores, it's impossible to know who was affected, so now would be a good time to cross check your Shopify orders with what's been imported into Order Desk and manually import orders that were missed.
We made the manual import in the Shopify integration a lot easier to use, so if you have missing orders, set the date and timestamp back to just before the earliest missing order was placed, and you'll be able to search forward as far as you need to find them:

If you are having any trouble with this, let our team know the order numbers that are missing (and the dates they were placed) so we can try to find them for you.
Feature Highlight
Save some time and let Order Desk create your ShipStation labels with the rule action Create Shipping Label With ShipStation. The label URL will be added as checkout data, and the shipment details will be applied to the order.

App Updates
If you send emails from Order Desk by selecting the order(s) from a folder and clicking the email icon, these will now be queued up to send within a few seconds. Previously, they were being sent instantly, which was causing a bottleneck, so this will help your emails go out more quickly and improve the overall app performance. Emails sent directly from an order page will still be sent instantly.

Did you know there is a 2k character limit on order metadata? If you hit that limit, all of your metadata will be erased and any new info will be added to a blank slate. You can imagine this isn't so great, especially if you use that info in your rules or need it to communicate order information between services! Because of this, we set up notifications that our team will receive if your store is about to hit the limit. We will review the notifications and let you know so you can find a way to fix it before your data is lost. However, knowing this info up front can save you trouble later. Make sure you aren't adding too much extra info to your orders!

Use quotes in Advanced Search to find an exact match. This works for the Item Name, Item Variation and Order Notes fields: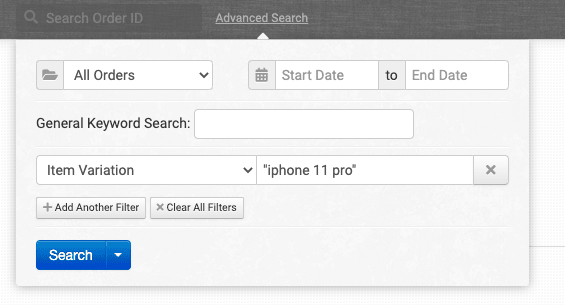 You can search the last 4 digits of a credit card from Advanced Search. Look for Last Four CC Digits from the dropdown.
Integration Updates
Shopping Carts
In addition to the new Shopify import process, you'll see a couple other updates. First, Download Unfulfilled is a new Fulfillment Status option. Second, notice the Order Import Delay in the settings. Set a delay on your imports if your orders are often updated within a few minutes after they're placed. This will ensure the updated version of the order is imported, as long as it is updated within the delay time period:

Did you see the Use New API Version setting in the WooCommerce integration? Enable that for all the perks of the updated WooCommerce API, including multiple shipping addresses on a single order. Details

here

.

BrightStores got an Inventory Location Filter so you can tell Order Desk which items to bring in with your orders. See how that works in the

BrightStores guide

.

If you'd like to send tracking back to Dsco Supplier on an event of your choosing, you can use the rule action Send Shipments to Dsco Supplier. Make sure to disable Sync Tracking Numbers from the integration settings for this to work.

The GST tax on Weebly orders will no longer be included as an additional tax in Order Desk.

Magneto 2 can

Download Base Prices

. Choose to import the base price of items, discounts or shipping costs instead of actual prices.
Fulfillment
ShipBob has a new API, so we rebuilt our integration to support it. Since their old API is going away soon, you'll need to reconnect your integration to avoid interruptions. You can do this by clicking disconnect at the bottom of the ShipBob integration settings and following the prompts to reenable it again. By the way, in addition to a few other changes, you may notice that the shipping options have all been removed from the integration. This is because you can now set up your shipping preferences directly in ShipBob.
Fulfillrite accepts ShippingAccount numbers on individual orders. Details

here

.

Order in Delivery Process is a newly added status that Order Desk can pull in with 3BM IT shipments. This joins Completed, Order Delivered and Order Received by Carrier.

MyWarehouse will default to DPDUK instead of DPD as the carrier code for the proper tracking URLs to be created.

VeraCore will accept ShippingAccountZip and ShippingAccountCountry in addition to your ShippingAccount number when set as order metadata or checkout data. Details

here

.

When items in an order are out of stock or the address is invalid, Wemalo will accept the order but block it. Look for two new Wemalo rule events to automate what you want Order Desk to do when this happens: Order Blocked at Wemalo and Order Unblocked at Wemalo.
Print on Demand
Air Waves preview image URLs weren't uploading quite right, so we fixed this.

The Printful API endpoints moved to a new location. We updated our side as well so your connection still works.

Offer faster fulfillment with the Next Day shipping option in White Label MFG. You'll find it in the Default Mail Class and in the Shipping Class Match. If you're unsure how Shipping Class Match works (and why it saves you money),

here's where you can learn more

.

This year was consistently inconsistent, so we took that as a challenge. Jondo Global orders will use the tracking URLs from Jondo instead of the ones that Order Desk generates. Take that, 2020!
Shipping
On EasyPost shipments for non-US orders where the Signature Required field should be empty, add EasyPostSignature as a checkout data field with the value set to DEFAULT. No idea what this means? Don't worry, it hurt our brains too. It's easier to think of it this way: if you get the error "shipment.options.delivery_confirmation: delivery_confirmation is not supported" when trying to create an EasyPost label (for example, for FedEx CrossBorder shipments), then you'll want to set up this checkout data field on the order to create the label.
Productivity
Pulling files in from Zakeke and splitting orders? No worries; the files will show up with the right items in all split orders.
New Integrations
Fulfillment: Peoplevox / FragranceX / SynerGILL / Ingram Content
Print on Demand: Smake
If you've made it this far, you probably find these newsletters somewhat useful, so I'd love to know if you have any suggestions for future newsletter topics? We hope to make these as valuable as possible, let us know any thoughts on your mind!
Wishing you a safe and healthy holiday season,
Amy and The Order Desk team
PS: Did you notice our holiday easter egg in the app? ⛄